"Wap Sender Pro V9.x" Documentation by "Software Author" v9.x
---
"Whatsapp Sender Pro V9.x"
Thank you for purchasing Our Software. If you have any questions that are beyond the scope of this help file, please feel free to email via my user page contact form here. Thanks so much!
---
Table of Contents
---
A) Instructions - top
Some people tried to crack our Software So we have developed a security Key connected to a Web Server to protect files The software files have a file named ( update.exe) this is a high encrypted security code to protect software against crackers
But some old antivirus can't read Encrypted files or read them as if it is a strange code or patch.
Simple go to your antivirus settings and add the software folder to ( Exclusion List )
check this Microsoft article for step by step:
https://support.microsoft.com/en-us/windows/add-an-exclusion-to-windows-security-811816c0-4dfd-af4a-47e4-c301afe13b26 .
---
B) Main Menu - top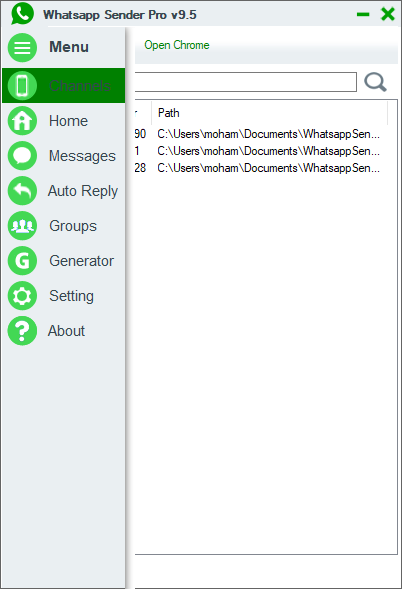 As you can see we have developed this software to be the first worldwide ALL in One Solution for Whatsapp Marketing
	#More than 50 Different Option

---
C) Channels / Senders - top
Here you can add an unlimited Number of Channels / Senders one time and will be auto stored sessions in software files.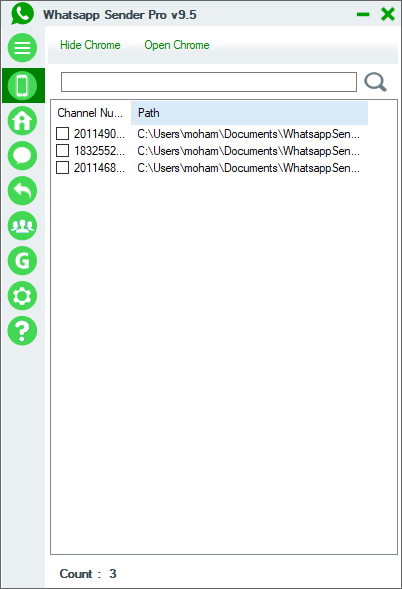 Click on Open Chrome, Then add your Channel number "including international code" and without (+)
Chrome will be auto launched, scan the Qr Code
Check all or select the channel you would like to use
Note: you can select all and the software will auto Random between Senders to reduce blocking.

[Auto Siwtching option between senders]
---
D) Sending Menu - top
Copy and Paste, Or Import your Contacts file otherwise containing names or not.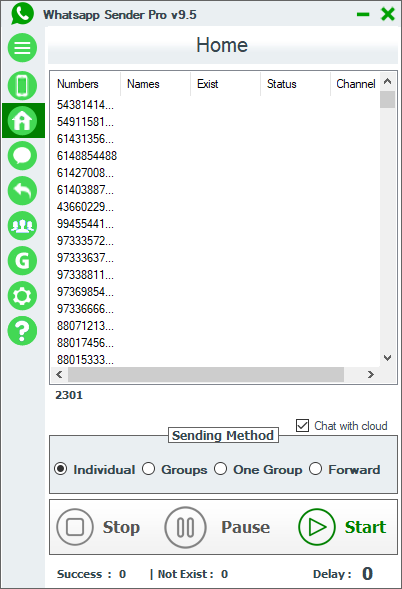 Chat cloud option: allows your numbers to auto talk to every software user around the world, auto chat messages will be generated.
Individual: will send you the messages in a separate way, as if you are sending from your mobile to client's
Groups: will create a group with the target amount of numbers you will set in settings, and send the message to such contacts in a group.
One Group: Create a group then auto add members to read the message, then remove them to add other clients or contacts.
Forward: sending using the forward option.
Multi Sending options.
---
E) Messages type - top
As you can see there is multi messaging support and all languages are supported
Send as text messages (in any language)
Adding multi-text messages (the software will auto random between messages ) to reduce blocking using different text messages
Image/Video: you can simply select one or multi-files, and choose to send text as a caption under the image or separate message to the same recipient.
Document: you can choose Pdf or attachment to be sent as well.
You can right-click and restore the last messages you have used in the latest campaigns.
F) Auto Reply - top
Add target keywords to let software answer as a Chatbot or as autoresponder system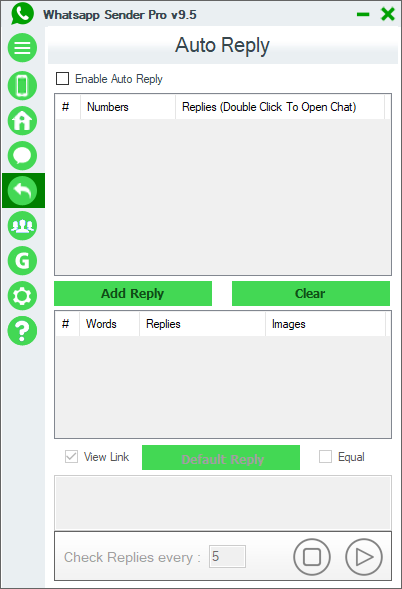 G) Group Options- top
Multi-Group Options:
Extract chats members ( Contacts )
Delete Duplicate contact numbers
Search for Groups using Google API
Auto join groups
Extract group links and save them for later
Many more groups options, check it.
H) Generate Numbers- top
Generate any country numbers and send to Filter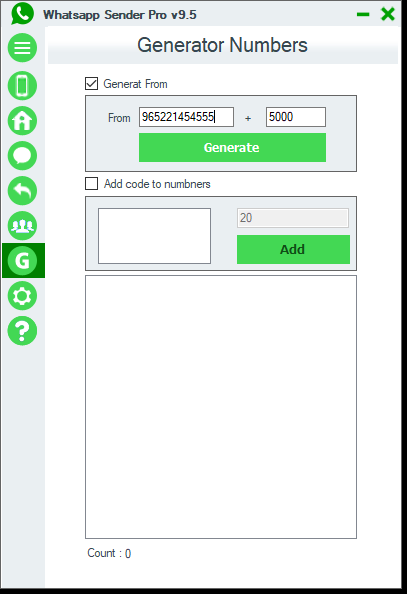 Auto-generate a list of contacts for any country
choose the number of numbers you would like to generate
Also, you can use ( number Fixing tool ) to add code to a bulk list you already have on your PC.
---
Once again, thank you so much for purchasing this theme. As I said at the beginning, I'd be glad to help you if you have any questions relating to this theme. No guarantees, but I'll do my best to assist. If you have a more general question relating to the themes on ThemeForest, you might consider visiting the forums and asking your question in the "Item Discussion" section.
Your Name
---